MAINTENANCE
Our Uxello experts simplify your facilities maintenance. Omnium is our global solution for fire protection services. This offer is the answer to the expectations of our customers and all the professionals who wish a durable and intelligent management of their installations of fire safety, while controlling their budget. With our tailor-made offer, you can control all your equipment with complete peace of mind over the long term.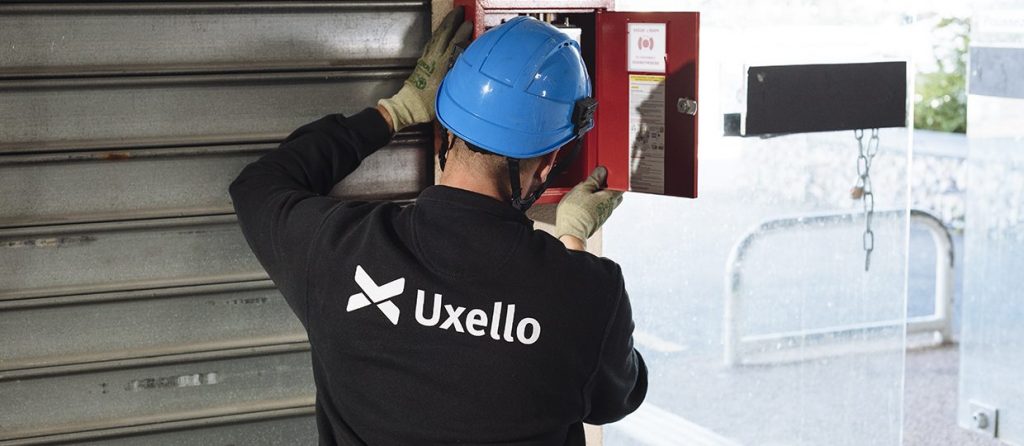 A SINGLE POINT OF CONTACT TO MANAGE YOUR INSTALLATIONS IN THE LONG TERM
To control your installations with complete peace of mind, a single dedicated contact follows all your installations in fire safety: sprinklers , armed fire valves (RIA), smoke extraction, dry columns, fire doors and fire extinguishers.
Performance and continuous improvement are at the heart of our priorities.
We offer tailored and calibrated services as needed by optimizing maintenance interventions.
Our solutions are scalable to guarantee performance and continuous improvement of installations.
You have a global and stable vision of costs : our teams carry out predictive analyzes, anticipate and plan control interventions for perfect cost control.
INTELLIGENT MANAGEMENT OF YOUR EQUIPMENT IN FIRE PROTECTION
During their interventions, our employees are equipped with tablets for better responsiveness, reliability and traceability. In a few clicks, they share information quickly and guarantee the continuity of your business.
In real time, dematerialized data is centralized and shared securely.
With a dense network of Uxello companies in France, there is always a team close to you. Find our locations.
WHY SHOULD WE KEEP OUR FIRE PROTECTION SYSTEMS ACTIVE? THE ANSWER OF OUR EXPERTS
A failure of your systems can lead to heavy human and material losses (buildings, stocks of goods, etc…) and environmental impact (cloud of toxic fumes).
Preventive maintenance
Your fire protection installations are only used in the event of a fire breaking out.
A malfunction remains invisible. It is therefore crucial to prevent any possible failure by monitoring and verifying critical points. By performing preventive maintenance, we limit the occurrence of these failures, and we guarantee you a working system at all times.
Corrective maintenance
For your peace of mind, we are at your disposal to intervene on any proven failure of your installation, with on-call 24/7.
Return to compliance
This type of work is carried out following a change, an update of the regulations or a non-compliance
Training of your teams
By providing your teams with training that combines theory and practice, they are able, in conjunction with our remote technicians, to perform certain manipulations, avoiding unnecessary travel and costs.